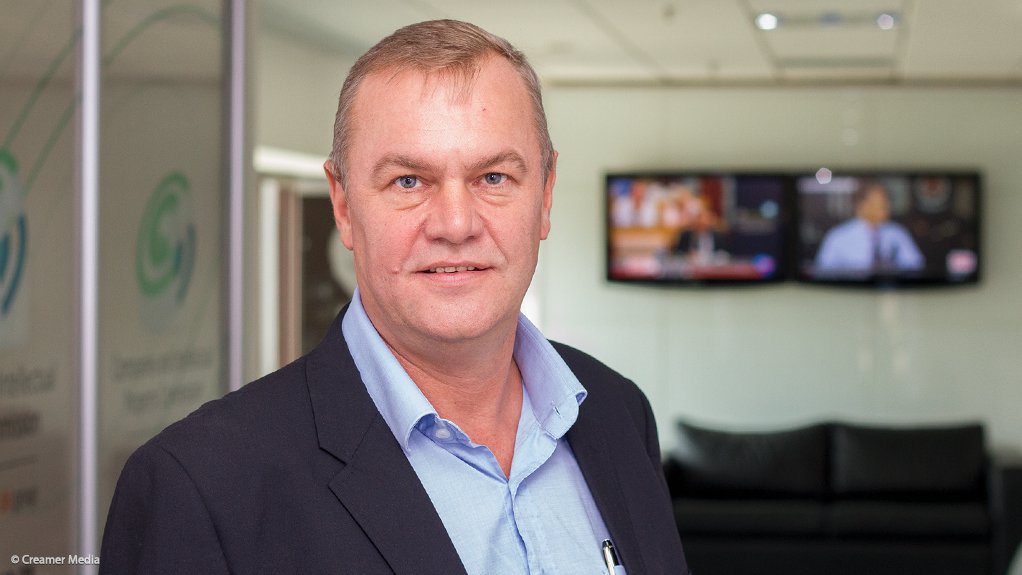 JSE-listed steel group ArcelorMittal South Africa (AMSA) is continuing to pursue tariff relief from electricity producer Eskom as part of broader efforts to navigate an increasingly hostile domestic steel market.
The group, which is in consultation with its labour unions that could result in as many as 2 000 job cuts, reported a headline loss of R638-million for the six months to June 30, 2019 – a result that represented a material reversal from gains made in 2018, when AMSA reported its first full-year profit in eight years.
CEO Kobus Verster reports that domestic steel consumption has slumped to a ten-year low and that consumption during the first half of the year fell to 70% of the consumption level achieved in 2008.
The outlook is for domestic steel demand to remain subdued, owing to persistently low economic growth and sustained pressure on infrastructure spending in light of serious fiscal constraints and financial problems at several State-owned companies.
AMSA has implemented a business transformation programme to reduce costs to $50/t by 2021, including through efforts to debottleneck its operations in Vanderbijlpark, Newcastle and Saldanha Bay.
It began talks with its union on July 23, which will continue for at least the 60-days legally prescribed for consultations that could result in job losses, with there being an expectation of some retrenchments before year-end. AMSA has yet to disclosed what the restructuring programme will cost.
AMSA will also seek to extend safeguard duties imposed on hot-rolled coil (HRC) and plate in 2017 when they expire in 2020, arguing that its survival remains threatened by ongoing imports.
The safeguard duties on HRC and plate are imposed over-and-above the generic tariff of 10% that applies to most primary steel imports.
Verster reports that the tariffs have been effective in reducing imports from China, but says imports from Taiwan and Russia have increased materially, as imports from these countries were initially below the volume threshold to trigger the safeguard. Taiwan has since breached the threshold and is thus subject to the duty, but Russia imports remain below the stipulated limit.
He warns, though, that downstream steel fabricators in South Africa remain extremely vulnerable, owing to the fact that tariff protection has not been extended to imported semi-finished and finished steel product.
AMSA is equally concerned about what the group describes as "unaffordable" electricity, port and rail tariffs, which it claims to be above benchmark levels across the global ArcelorMittal Group.
Verster says the group does not publically disclose internal benchmarks, but that the information has been shared with Eskom as part of efforts to secure a two-year special tariff dispensation.
Talks were continuing with Eskom, despite what CFO Desmond Maharaj describes as an unfavorable initial response from the power utility.
Eskom, Maharaj explains, has indicated that its tariffs are in line with its "short-run marginal costs, leaving no opportunity for any tariff relief".
He says electricity comprises about 10% of overall production costs, but makes up 30% of the cost of "transformation", which excludes raw materials costs.
In the interim period, the cost of AMSA's raw material basket increased by 16% in rand terms, with iron-ore rising 33%, coking coal by 15% and scrap by 2%. In dollar terms, the basket remained unchanged.
Steel prices fell 13% in dollar terms during the period, while AMSA's sales volumes fell by 9% period on period.
Lower steel prices and sales resulted in a 5% fall in revenue to R21.7-billion, and a major negative swing in earnings before interest, tax, depreciation and amortisation from R1.6-billlion during the first half of 2018, to R167-million during the corresponding period in 2019.
Verster says the focus for the second half of the year will be on preserving cash, even at the expense of volumes